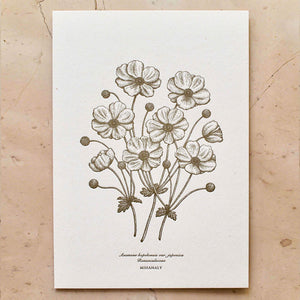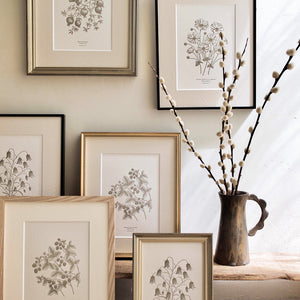 Product image 1

Product image 2

Product image 3

Product image 4
Product image 5
Product image 6
Botanical poster Japanese Anemone
\If you order the poster only, the shipping fee is ¥500. /
An elegant fellow with thin stems that blooms in autumn, Qiu Ming chrysanthemum. Although it has a chrysanthemum in its name, it is not related to chrysanthemums. It is a member of the anemone family of the Ranunculaceae family. It is a botanical art poster that carefully draws a somewhat ephemeral yet lovely figure and expresses it with a special paper and printing method.
For the paper, I chose a paper that has straw-like fibers in it so that you can feel the texture of the material. It has a rough texture and a firm thickness, and the natural colors create a rustic and gentle atmosphere.
Also, the printing is uneven. done by letterpress printing, The ink uses matte astringent gold. The line art has become more impressive.
I dared to revise it many times so that it didn't have too much presence. The scientific name and MIHANALY are engraved on the bottom.
The size is small A5 (14.8 cm × 21.0 cm), so you can easily decorate it anywhere.
You can enjoy a variety of decorations, such as using masking tape for a rough look, using a mat on a slightly larger forehead to make it stand out, or arranging multiple pieces. It's a simple line drawing, so it's an interesting botanical art that changes the atmosphere depending on the material and color of the frame.
【  Product Information 】
Botanical Poster Autumn Ming Chrysanthemum
size: 14.8cm×21.0cm

*Frame not included